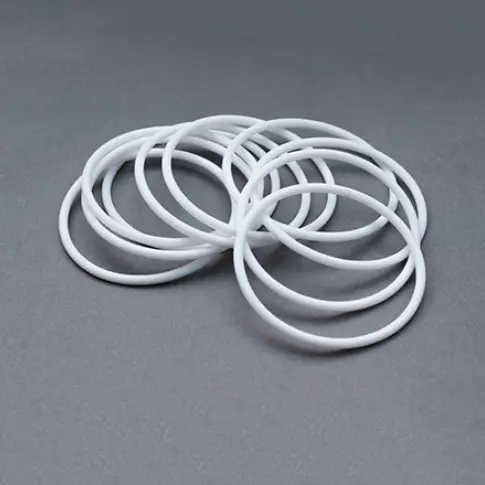 Polytetrafluoroethylene (PTFE) is a synthetic fluoropolymer of
tetrafluoroethylene that has numerous applications. The commonly known brand name of PTFE-based compositions is Teflon by Chemours, a spin-off from DuPont, which originally discovered the compound in 1938. We are amongst the leading manufacturers, exporters and distributors of an exclusive range of Pumps & PTFE products. Our products are highly regarded for their durability and are accurately designed, to cater to the diverse requirements of our customers.
PTFE O Rings

PTFE Gaskets & Seals

PTFE Diaphragms

Custom PTFE Molded Products
Properties of PTFE Products
The properties of PTFE which make it an interesting material with high commercial value are:

Exception chemical resistance

Good resistance to heat & low temperature

Good electrical insulating power in hot & wet environments

Good resistance to light, UV and weathering
Low coefficient of friction

Low dielectric constant/dissipation factor

Strong anti-adhesion properties

Flexibility

Good fatigue resistance under low stress

Availability of food, medical & high-purity grades
Low water absorption
Fabrication of PTFE products
Fabrication of PTFE products is difficult because the material does not flow readily even above its melting point. Molded parts can be made by compressing and heating fine powders mixed with volatile lubricants. Metallic surfaces can be sprayed or dipped with aqueous dispersions of PTFE particles to form a permanent coating. Dispersions of PTFE can also be spun into fibres.
Feel free to get in touch with us for all your rubber component-related needs & for discussions around how can we help you as your preferred rubber component manufacturer.